Having an infrared sauna for your home provides you with a convenient and comfortable way to relax after a long day or week. When it comes to choosing a sauna, one of the first decisions to make is the wood for it. What kinds of wood are the best options for saunas? Learn more about your options, including basswood sauna options.
Cedar
If you think of the word "sauna" you also think "cedar". That's because cedar is used in high-heat wet saunas. Cedar grows naturally in swamps and low lying areas because it has natural anti-fungal characteristics and can withstand the water splashing around. However cedar is also North America's most aromatic wood and is inappropriate for an infrared sauna that might be installed in your bedroom or guestroom or gym. It can smell too much to have cedar present indoors all the time.
Aspen
Aspen is known for being low in toxicity, making it an option to consider for those with allergies or sensitivities. This type of wood also has a lighter color, which can make it an appealing choice for those who prefer lighter wood tones to darker wood tones. Aspen is more dense and heavy than it's cousin the Basswood tree, and the colour tones are inconsistent.
Basswood
A basswood sauna offers the most hypoallergenic wood in North America, which makes it a great choice for those who have allergies or sensitivities to other types of wood. Basswood is also free of odors, which helps create a more pleasant sauna environment. Commercially it is used for tongue depressors, popsicle stickers and cheese boxes because it is considered to be the only odor-free and food grade wood.  It is a hardwood that is also lightweight to carry and makes for a light sauna cabinet in your home. It doesn't need to withstand water because infrared saunas do not employ steam. Basswood is an eco-friendly choice of sauna wood, since it grows in abundance. These trees only take about 7 years to mature, making them highly sustainable.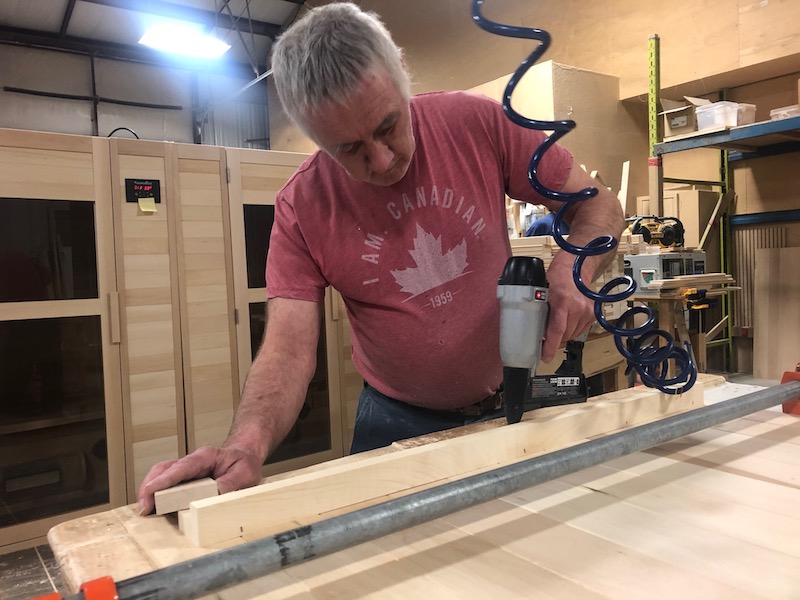 Eucalyptus
Eucalyptus is an exotic wood in North America and is mostly used for small projects or creating a particular environment. This type of wood can be stained in order to match the decor inside homes if needed, but stain is not recommended with infrared saunas because the stain can smell and release harmful chemicals when heated. Eucalyptus is also a strong type of wood, allowing it to last for many years.
Hemlock
Hemlock has a softer texture, which makes it easy to build saunas from. However, its lightweight design can make it a poor choice for saunas. The Hemlock you normally find in sauna imported from Asia is also cut super thin like plywood and can buckle and crack within a year. Hemlock also doesn't hold up as well to heat and can become warped easily and is prone to rot.
Pine
Pine can give saunas a beautiful appearance, but it's not the best option for them. This type of wood isn't as durable as basswood and other types of wood. Pine saunas can also develop knots and release sap from inside, which can create a strong aroma that people may find irritating, especially indoors.
Poplar
Poplar is one of the more commonly chosen types of sauna woods due to its availability. While it tends to be more durable than pine, it isn't able to withstand higher temperatures as well as other types of wood. Poplar wood is more dense than its Linden cousins, Aspen and Basswood and the colour can range from brown to green.
High-Quality Basswood Sauna Options
If you're planning to get an infrared sauna for your home, contact SaunaRay. We offer superior quality basswood saunas made from sustainable sources. Visit us to learn more about our infrared sauna options for residential or commercial use.