Clean Construction
Built to be naturally chemical-free, our saunas are safe, sustainable, and made from wood within 100 miles of our factory.
Our Toxin Free Guarantee
A Recipe for the World's Cleanest Sauna: Solid Ontario Basswood. Selected for its allergy-free characteristics, warm wood tones and natural beauty. Thick planks of wood ensure it can be assembled without glue. Solid Ceramic Far Infrared heaters. Chosen for purity, warmth and longevity. Pure and Natural Stainless Steel. Solid toxin-free and naturally rustproof. Tempered glass. Toxin-free, child-safe, locally made. Canadian Beeswax. Carefully selected and hand-rubbed onto the outside of your sauna, creating a natural toxin-free protective coating. Natural Ingredients only for your 100% Toxin Free Sauna.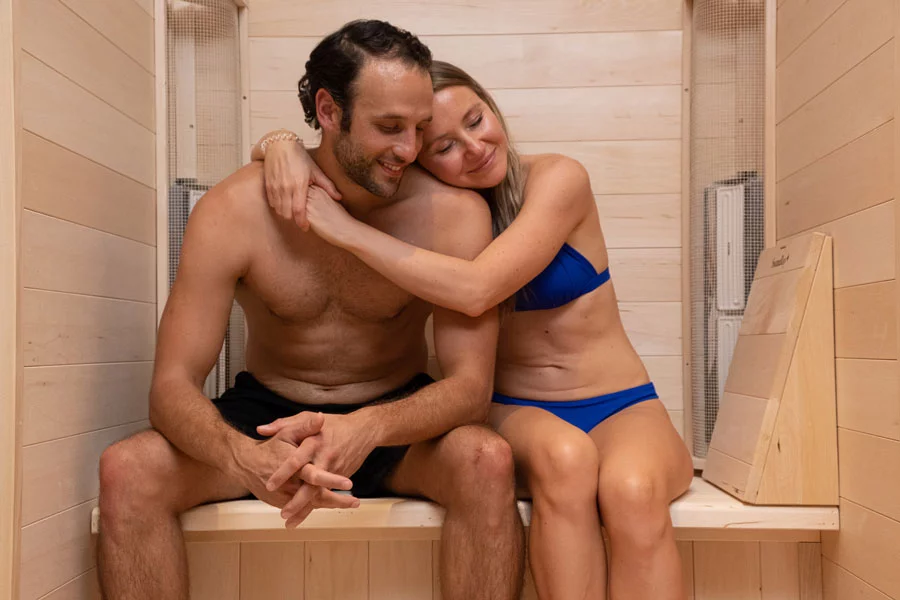 Exacting Standards And Toxin-Free!
SaunaRay is a boutique company. We build only five hundred saunas every year. Each one is built to exact standards in a toxin-free environment. Every piece of wood is inspected to ensure its strength and natural beauty. Each sauna endures a specific series of tests to ensure it will survive generations of use. This is why we can put the SaunaRay Lifetime Guarantee on every unit, without any extra charge. It won't break down. It's that simple. The president of the company still signs off on everyone before shipping it to your home.
There are cheaper saunas, but don't get fooled. SaunaRay staff have documented these saunas as cheap as $800, but they fall apart. We have repaired or replaced dozens of them for customers who got tricked into thinking they had bought something made in North America. Every one of them says the same thing in hindsight, "I thought I was saving money, but I just bought a headache." If this happened to you, SaunaRay can still help. Call us.
SaunaRay Toxin-Free Heaters
Capture the Healing Power of the Sun: Infrared heat is not high-tech. Infrared heat is the most natural way for your body to absorb heat from the sun. Your sauna should also be natural, and that's why no adhesives, solvents, fibreglass, asbestos or toxic metals are used in your SaunaRay heating system.
Protect Yourself and Your Children: SaunaRay provides uniquely designed heater guards that are both child-safe and toxin-free. They are naturally coated in pure ceramic, utilizing natural heat reflection properties. Designed exclusively by SaunaRay's Research and Development Team.
Standing Our Ground: Out of loyalty to the customers who have come to trust the name SaunaRay, we have resisted the industry trend toward cheaper heaters with hidden toxins such as fibreglass, nylon, epoxy, toxic resins, chemical hardeners, metal coatings, fire retardants, paint or asbestos. We will never depart from our founding philosophy to build a toxin-free sauna every time. We will never trick you by substituting unproven, inferior or toxic components to save money. SaunaRay Guarantees Toxin-Free Heaters every time.
SaunaRay Chemical-Free Policies
All of our saunas are built free of toxic chemicals. We will never use formaldehyde by hiding plywood in the roof or floor or anywhere else in your sauna. We will not use plastic or fiberglass in our heaters. We will not add chemical fire retardants or toxic glues on our protective heater covers. We will not install air fresheners, plastic ionizers or any other plastic material inside your sauna. Plastic binders called phthalates are linked to breast cancer. We will not use a halogen of fluorescent lights inside your sauna. Inside a sauna, there is no safe distance for Halogen lighting. We use only incandescent lights for your comfort and safety.